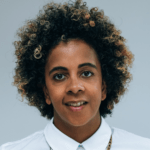 Website: Fowl Mouths Food
Total years spent working within the industry?
Excluding working as a waitress, and purely on the pop-up, four years. In total it's about 8 years. 
How did you get into Hospitality?
I was working as a journalist, as a feature writer on a national newspaper, when I went on a course last-minute on 'How to run a supper club'. I then did a practice run with friends, and then started doing supper clubs every month. They grew into pop-ups, where I'd take a couple of days off work to prep, and then I left journalism and pursued it full-time. 
What do you most enjoy about this industry?
The creativity and buzz from getting good feedback. I love coming up with menus and dishes and love it when people enjoy the food I cook. I love eating so knowing I'm bringing that joy to others is incredible. 
What does a typical day look like for you?
Nowadays it's wake, breakfast with my daughter and drop her off at childcare before writing, and then cooking for a project. Then I cook for dinner (if I can make my work turn into dinner, great) before picking up my daughter, playing together and then eating together, hopefully with my partner if she's back from work early enough. Then we try and get an early night - it's a constant pursuit of ours. 
The single most important piece of advice given to you?
Always taste the food you're cooking. Also, Mandy Yin from Sambal Shiok gave me excellent advice during my first week of my first-ever pub residency. I had no idea what I was doing and she told me to pare back the menu and concentrate on fewer things to make them excellent, otherwise, I'd burn out. 
Three dinner guests - who would they be? 
Oprah, Dianne Abbott and Ruby Tandoh
The last book you read or documentary watched?
I am currently reading Bound to the Fire, about how enslaved people invented American cuisine. So far it's brilliant and infuriating.
Finish the sentence, the future in hospitality is…
..unknown.