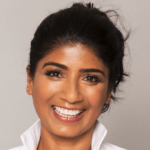 Website: Anjula Devi
How did you get into Hospitality?
Driving to work one morning, I was listening to Whitney Houston, and I remembered what my Dad used to say "Anjula food is like music - emotional, passionate and full of charisma". That was the moment I decided I was in the wrong job and needed to create a job that was also my passion – food. I rapidly founded my own business and took it from there..
What is your most job recent (or current)?
My recent consultancy role was one I feel so proud of, at the Theatre of Dreams, Manchester United. I have to say it has been one of my most challenging roles to date, but the most rewarding.
Total years spent working within the industry?
About 13 years now. A perpetual rollercoaster ride, but mostly very enjoyable.
What do you most enjoy about this industry?
No one day is the same, it's exciting and continually unleashes my creativity to another level.
Tell us something we might not know about your field/sector?
On a home matchday at Manchester United, food for hospitality clients is produced across 27 kitchens. Up to 6,000 people enjoy hospitality within the stadium. The crowd is usually over 75,000! The scale of the catering operation is really impressive and the catering brigade is fantastic.
The single most important piece of advice given to you?
'Every day is a school day'. I have a real energy to learn and innovate with food, so I love this saying.
The big break, or career-defining moment?
Joining the brigade at Manchester United. A new challenge and an opportunity to share my recipes with thousands of hospitality guests.
Biggest career challenge and how it was overcome?
At Manchester United, cooking Indian food for thousands of fans and teaching classically trained chefs to cook really good Indian food. I overcame the challenges utilising patience and knowledge
Have you ever had a mentor?
James Tagg, the Executive Chef at Manchester United, has been a great supporter and guide for me.