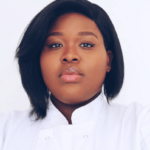 Total years spent working within the industry?
3 ½ years
How did you get into Hospitality?
I completed a course at Westminster Kingsway college, the advanced culinary diploma.
What was your first job in Hospitality? At this point were you aware of the paths possible beyond this?
My first part time job, I was a chef's assistant at Billingsgate seafood school, I later went on to work with Ben Murphy at Launceston Place restaurant. I wasn't fully aware of the paths possible; I was just excited my dream was happening.
What was your most job recent (or current)?
I'm a part time chef at Albright female members club
What do you most enjoy about this industry?
I enjoy the pressure in the kitchen and the smiles on the customers faces.
Tell us something we might not know about your field/sector?
I really did not know what to say. Lol
The chef life can be depressing sometimes, no social life. So anytime its less busy in the kitchen I make the guys join me to do funny dance videos or a sing along just to relieve the pressure, just know every chef has a crazy side.
Single most important piece of advice given to you?
Let your light shine and be yourself in everything you do.
Big break, or career defining moment?
I completed my course the overall best student and got a job with Ben Murphy
Advice you would offer to your younger self when you first entered the industry?
If you work really hard, no one will want to break you in the kitchen
Who has been your career and/or personal inspirations, how?
My personal inspiration is my mum, she taught me how to work hard for what you want and gave me the opportunities to learn and grow in my craft. I have two career inspirations Ben Murphy my previous employer, he inspired me that no matter how young you are, you can excel and Miranda Godfrey my culinary teacher, she inspired me that a woman in industry can excel even with a big family and there are many possibilities in this industry to explore.
Biggest career challenge and how it was overcome?
My biggest career challenge was being a black woman in a kitchen filled with men that don't think you know what you're doing. I worked hard, I got promoted, I kept on learning and growing and just let my work speak for me even when I wasn't there.