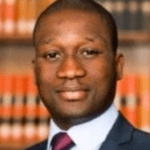 Total years spent working within the industry?
14 years
How did you get into Hospitality?
I was offered a role by one of the many recruitment agencies I registered with.
What was your first job in Hospitality? At this point were you aware of the paths possible beyond this?
Linen Porter in the old Regent Palace Hotel. Planned for it to be temporary but didn't have a clue what the next step would be
What do you most enjoy about this industry?
It has to be the beauty of its diversity and the opportunity to learn about different cultures. I have made friends with people from countries I never knew existed before I joined the industry.
Tell us something we might not know about your field/sector?
There is a golden rule to always be empathetic towards colleagues and it's not all about disciplinary hearings.
Single most important piece of advice given to you?
Make friends and build networks with people you can benefit positively from is one of the many advices given to me by my dad
Big break, or career defining moment?
I will say my career defining moment is when I decided to study for my CIPD qualification. I was very comfortable in the role I had then but knew I had to do something to progress
Advice you would offer to your younger self when you first entered the industry?
It's not just a holiday job. There is great opportunity to build a successful career if you put in the dedication and elbow grease.