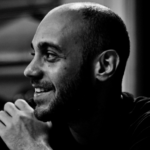 Website: Kiln Soho, Smoking Goat, Brat
Total years spent working within the industry?
In restaurants around 6 years.
How did you get into Hospitality?
I was working on the bar for an independent pub company and then moved over to do graphic design and music work for the same company. I had often thought that I would like to have my own place someday then I started working with Charlie Carroll who was in the early stages of starting what is now the Flat Iron group. Charlie and I worked together on the interiors, identity and marketing for the first Flat Iron Pop Up and in this process he taught me a huge amount about food, sourcing, setting up and running a restaurant. From that point, I wanted to learn to cook.
At this point were you aware of the paths possible beyond this?
Yes, I had been very lucky that the people I worked for always had far-reaching ideals of what a pub/restaurant could be and their reference points would often involve looking at ideas in New York etc.
What was your most job recent (or current)?
I'm a co-founding director at Super 8 Restaurants (Smoking Goat, Kiln, Brat) and Flat Iron 
What do you most enjoy about this industry?
There can be very little inertia between a good idea and it happening
What does a typical day look like for you?
Varied and fluid, but usually split between some problem solving on making the food, drink and atmosphere better i.e how do we make more of the whole animal butchery processes through to how do I get the bartender more excited about coming up with new cocktails. Perhaps some dish tasting, perhaps some encouragement for a CDP to get their dish on the menu.
The single most important piece of advice given to you?
Do what you like and then you'll be good at it - my GCSE art teacher at Handsworth boys in Birmingham.
The big break, or career-defining moment?
Hmm, the turning point for me was cooking with our FOH Wannida's family in eastern Thailand and the penny dropping on the applicable connection between the style of thai cooking I loved and farm-fresh quality of ingredient. Therein I felt I had something to say. There have been various awards along the way, which I am thankful for.
The advice you would offer to your younger self when you first entered the industry?
Make sure your creative work is thorough before your operational work begins.
Who has been your career and/or personal inspirations, how?
I'm not particularly career-minded and personal inspirations tend to come from beyond the hospitality industry. I have a lot of admiration for chefs who have genuinely progressed the supply chain they are part of, Bo and Dylan at Bo.Lan spring to mind. On a less food-focused note, the journey of the Ace Hotel group is quite amazing.
Biggest career challenge and how it was overcome?
I had no money and didn't know how to cook but found myself opening a pop-up restaurant on Denmark street. I learnt how to cook and we did everything on a shoestring.
Have you ever had a mentor?
Fore-mostly, my partner at Super 8 Brian Hannon who is enthusiastic on both encouraging of new ideas and running a company the right way. Dan Crouch who continues to run the most progressive music venues around the UK was the first person to give me chance and taught me the value of never forgetting your instinctual ideals. Charlie Carroll at Flat Iron, extraordinary attention to detail can unlock wild ideas and Rebecca Mascarenhas who has run a restaurant with a Michelin star for over 25 years to focus on what is important to the guest before everything else.