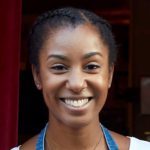 Website: Wild Radish and  WeCook
Total years spent working within the industry?
17 years
What was your first job in Hospitality?
My first role within hospitality was at 17 years old, working at TGI Fridays part-time whilst at college. It was a bit of a baptism of fire because you cannot half-heartedly do a TGI Fridays job. I have really fond memories of that experience, particularly because it is so about hospitality, in such a specific way. It was all about the customer, it doesn't matter if you are having a bad day, you have to stand on a chair and sing happy birthday, it gave me an interesting perspective of what people in hospitality do and the lengths that they will go to, to make sure that you are having a nice time.
What do you most enjoy about this industry?
From a chef perspective, it is sharing, inspiring and being able to create memories. You make a plate of food, you see it go out, you see the customer receive it. You have that moment of something that you made, that you care about, and are passionate about going out to somebody. You see their face light up, as their eating it, and they remember that moment. Creating that memory and sharing that good feeling and passion.
What does a typical day look like for you?
I do not have a typical day, by virtue of currently setting up a start-up all of my days are very different. It could be anything from cooking and collaborating with amazing chefs, developing recipes, writing them up, product development, sourcing suppliers, and so building the entire thing.  At the moment my time is split doing elements of that remotely, and evenings are spent doing the WeCook cook-along.
The single most important piece of advice given to you?
I get so much, but the one that really resonates is to only compare yourself to you of yesterday, and that was from my brother yesterday.
Three dinner guests - who would they be?
James Lovelock, Rosa Parks, or Martin Luther King, and my late grandmother.
The last book you read or documentary watched?
The last book was 'Don't touch my hair' by Emma Dabiri.
Finish the sentence, the future in hospitality is….
Yours. It's yours for the taking, and for the making.