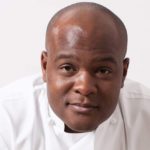 Website: The Chubby Castor
Total years spent working within the industry?
24 years
What do you most enjoy about this industry?
I enjoy cooking, and I enjoy food. I am also happy to see young chefs, with a good attitude learning, developing and becoming better, and climbing through the ranks.
What does a typical day look like for you?
I have gone to the restaurant now and then whilst on lockdown, using the time to do some works, and have had the builders in too. Otherwise, I am up between 8 and 9 am, at home catching up on movies, reading books, meditating and catching up with friends.
When lockdown first happened, I slept for 2 days straight, I was really tired and needed to recharge my batteries.
Tell us something we might not know about your field/sector?
It's not all glorious, forget what you see on television.
The single most important piece of advice given to you?
Head down, work hard and watch everyone else's mistakes, learn from the mistakes of others wherever possible.
Three dinner guests, dead or alive?
My mom, dad and brother who have all passed away, and I miss very much.
The last book read, or documentary watched?
The last book was 'The 48 Laws of Power' by Robert Greene.
Finish the sentence, the future in hospitality is…
Unknown